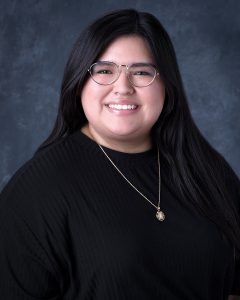 Michelle was born and raised in central California and made Las Vegas her home in 2017 to
attend college. In 2022, she graduated from the University of Nevada Las Vegas with a
Bachelor of Science in Architecture.
She is an active leader in the Las Vegas chapter of the American Institute of Architecture
Students (AIAS) as well as the American Institute of Architects (AIA). Michelle has been an
advocate for persons of color in the architecture profession, participating with AIA Las Vegas in
promotional videos and panels discussing Justice, Equity, Diversity and Inclusion (J.E.D.I). She
also has spoken on a panel for women in architecture academia. She is a member of the J.E.D.I
committee and the secretary for the NV Fellows.
She is also involved nationally within AIAS, being a Freedom by Design Advisory Committee
member. Within this committee she has supported other AIAS service and outreach programs
from universities all over the nation.
In her free time Michelle enjoys seeing her family, checking out the latest local coffee shop, or at
home playing her cello. Michelle believes that all people are deserving of resilient and
sustainable design and we as architects should not only design healthy spaces for people but
also for the environment.
AIAS UNLV Chapter president (2020-2021)
AIA LV JEDI Committee member (2020-2022)
AIAS National FBDAC Committee member (2020-2022)
AIA LV Fellows committee secretary (2021-2022)