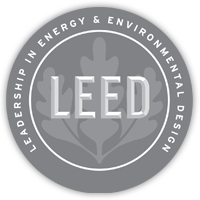 GRN Vision has been a recognized leader in the sustainability field since its establishment in the early 2000's. With experience on dozens of successful LEED certified projects, the principals at GRN Vision bring over 40 years of combined experience to each project. We are deeply passionate about sustainability and take great pride in our ability to creatively integrate cost effective sustainable practices into new and existing buildings of any size or level of complexity.
Consulting
LEED, Green Globes and Sustainability viability studies project consulting and program management:
GRN Vision has a wealth of experience in multiple green building certification rating systems including for new construction and existing building retrofit projects. GRN Vision has experience in qualifying projects for a variety of tax abatement and utility incentive programs.  GRN Vision is an approved professional provider firm under the Nevada Governor's Office of Energy Green Building Partial Tax Abatement Program.
Education
LEED Training and Charrette Facilitation:
Seminars and in-house staff training on the integrative design and construction process models, LEED certification and credential training,  WELL Building certification and training. GRN Vision also provides training in Operational efficiencies and Green Cleaning procedures. 
Analysis
Existing Facility Optimization:
Energy, Water and Waste system auditing, sustainability program and policy analysis. GRN Vision can provide commercial Energy Star benchmarking.
Management
 Program Management:
Key to project success is determining the required elements to include in any development. Managing Program Specifics and assisting Owners to facilitate the project teams' collaborative contributions with an integrative process ensures that all of the Owner's Project Requirements, objectives and performance indicators are accomplished.